MRI Blog
Looking Back at OIGA 2011 Player Profiling Presentation
Posted in
OIGA
Comments
Oklahoma Indian Gaming Association 2011: Strategies to Improve Player Retention and Grow Gaming Revenue. Presented by Craig Border, Director of Database Marketing, Marketing Results. (Update: Vice President of Database Marketing.)
Presentation points to be covered:
Segmentation Research
Key player segments that exist in every gaming market
Choose your target customer - Not all gamblers are created equally
Messages to attract the right target for your property
Database Profiling Techniques
There are 114 Oklahoma casinos generating more than $3 Billion in annual gaming revenue.
Competition among casinos to attract gamblers is fierce
Most gamblers are regular players at multiple casinos
The majority of casinos offer similar product, amenities and service
How do you create a preference for your property over the competition
(Source: CasinoCity.com)
Each individual in your casino is playing for a different reason. Research allows us to better understand their motivations.
Market Segmentation & Profiles
Identify the right customer profile for your business
Determine their value engagement and loyalty
Deliver messages that appeal to them
Consistently meet expectations by correctly aligning offerings to target customer groups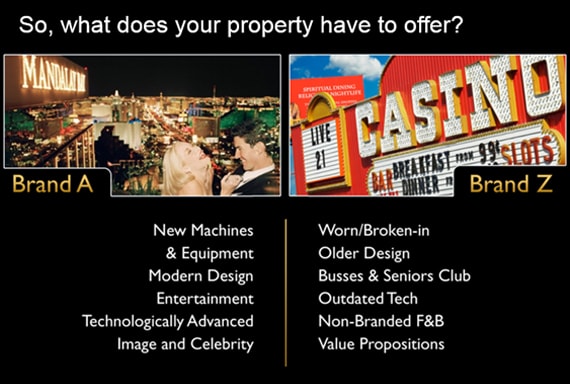 Life Cycle Segmentation & Profiles
Profiling Players: Customer Life Cycle Stages
Prospects: Non-member players and gamblers who have not visited your property
Acquisition: New members who recently enrolled in the card program
Active: Club members who play frequently and represent the majority of visitors to a casino
Defectors: Inactive club members who have not had a tracked gaming visit in 12 months or longer
Reactivated: Club members who were active, defected for a period of time and have returned to their active status
Considerations:
Players in each of the life cycle stages exist in your database today
Each of these player groups has different needs and interests as a customer
Each of these players has a different gaming value and visitation
Each of these players represents a different marketing challenge and requires different messaging
Each life cycle can lead to database growth or decline
Each life cycle contributes significantly to revenue
Effective communication strategies recognize the differences between these player groups
By focusing on all life cycle profiles simultaneously you can accelerate growth at your property
Conclusions:
Segmentation and profiling techniques enable you to target the right customers for your property
This leads to increased satisfaction and customer retention
All life cycles should be addressed to grow the database and revenue faster
Share
comments powered by

Disqus