MRI Casino Marketing Blog
Global Gaming G2E 2013 That's a Wrap
Another whirlwind week of the annual Global Gaming Expo has come to an end. The Sands Expo and Convention Center was as busy as ever, packed with gaming enthusiasts, exhibitors, casino executives, marketers, celebrities, ZOMBIES and more!
Highlights of the show included entertainment-based slot machines featuring AMC's Walking Dead (Aristocrat), James Cameron's Avatar (IGT), the State of the Industry Keynote Address and more...
Oh...and did I mention that Batman (Adam West) was also in attendance?
...and so was his Batmobile.
The keynote address featured: Holly Gagnon, President & CEO of Pearl River Resort; Virginia McDowell, President & CEO of Isle of Capri Casinos Inc.; Tobin Prior, CEO of Ultimate Gaming; Anthony Sanfilippo, President & CEO of Pinnacle Entertainment Inc.; and Timothy J. Wilmott, President & Chief Operating Officer of Penn National Gaming Inc.
In summary, there were high hopes for the future of the Las Vegas gaming industry. National gaming oversaturation was a point of concern. The CEO panel was somewhat pessimistic about the idea of federal legalization for online poker--instead, they leaned toward state-by-state regulation. (Read more.)
The AVATAR™ slot ribbon-cutting ceremony featured Stephen Lang (Colonel Mile Quaritch in AVATAR™) who was surrounded by Marines (for protection) and Avatars. Stephen's voice is used to great effect throughout the gaming experience. It was all a Pandora-like sight to see and apparently helped to push the slot over the top to win in the "Best Slot Product" category.
(IGT's James Cameron's AVATAR™ Video Slots Series was Named "Best Slot Product" By Global Gaming Business.)
If you took exception to the fact that zombies were present at G2E this year, fear not...a Walking Dead slot machine was released by Aristocrat. They weren't too many people that escaped the wrath of the (too many to count) zombies in attendance. They never broke character...it was a sight that is still difficult to forget. I'd be willing to bet that Aristocrat is hoping for the same effect from their slot machines.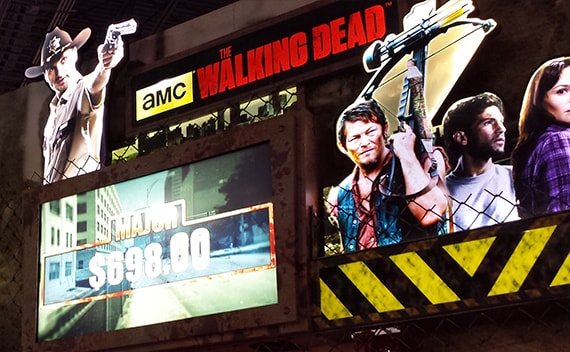 Marketing Results, Inc. moderated the session: Making Old New Again: Rebranding a Tired Casino.
One of the most difficult marketing tricks is to rebrand a long-established casino. Changing the perceptions of current and future customers alike, is difficult...but not impossible.
At this session, experts revealed the secrets of a successful rebrand and discussed a variety of rebranding solutions, from changes in décor to the transition of entirely different brand.
Key Takeaways:
• Create a plan to complete a successful rebrand
• Learn how to avoid pitfalls in a rebranding campaign
• Evaluate the costs against potential returns
The presentation was well-received by a packed house; the crowd participation was a good indication of a job well done by Alisa and the presenters.
Speaking of brand overhauls, our very own MRI AIM website was recently updated--partially to accommodate the dramatic increase in online mobile activity: it is now a responsive website that functions nicely on smart phones, tablets, laptops and desktop computers. Visually, the site is stunning with crisp graphics, animation, videos and an easy-to-navigate user interface. 
If you are interested in learning more about our casino database marketing software, please feel free to CONTACT US.
It was great to see everyone out this year...we're already thinking about 2014.
How about you?
Share this post:
Let's Chat!
Have a marketing challenge you want to discuss? We can help.
Fill out the form below to schedule a time to talk with one of our casino marketing experts.
* Required fields
Increase Revenue. Build Trust.
Sign up to get casino marketing insights delivered directly to your inbox.