MRI Casino Marketing Blog
5 Facebook Mobile Advertising Tips for Casinos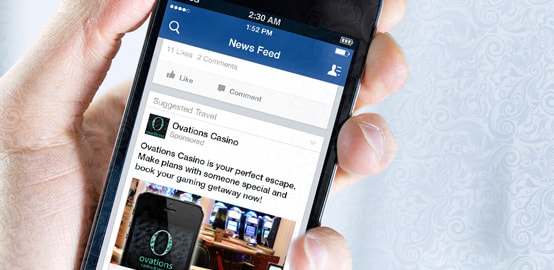 Nielsen recently reported that the Facebook mobile app is the #1 most popular app across the market, averaging an estimated reach of 103,000,000 users. To add some perspective, the Google Search app comes in second with 75,000,000 average monthly users.
The message should be clear to casinos and any other line of business. To get a piece of that audience of 103 million, you must be advertising on Facebook Mobile. Here are a few best practices to follow for success with casino Facebook mobile advertising.
Start With a Small Budget – In most cases, a Facebook ad campaign isn't going to be profitable from the start and there is no reason to go big from the get-go. Start small with your Facebook ad campaign's budget and add to it over time. There's nothing wrong with spending as little as $5 a day as you get the hang of everything and perfect the craft.
Test Ads – It is a good idea to develop two ads and do a little A/B testing to see which ad performs better. Test different images and different approaches to written copy.
Avoid Stock Images – While you likely have stock images and artistic renderings of playing cards and slot machines on hand, showcase your logo and actual images from your casino in the ads rather than looking like the CD cover to some 90s computer slots game. Post a photo of a winner posing next to one of your slots. Post a picture of the gaming floor on a busy Friday night. Showcase a music or comedy act set to perform.
Get More Likes – A "Like" campaign is relatively inexpensive and casinos typically do well with this type of campaign since they have regional name/brand recognition. The more likes you have, the more popular you look. The more popular you look, the more people like you. It's a domino effect. Once you have the "Likes", messages can start being targeted directly to your fan base.
Give It Some Time – Achieving worthwhile results doesn't happen the moment Facebook starts running your ad live. Facebook needs some time to optimize new ads.
The bottom line, Facebook ads can be beneficial to any casino's bottom line. They're a must in social media marketing for casinos and especially important as we approach the first time in history that more people access Facebook via a mobile device than their desktop PC.
Share this post:
Let's Chat!
Have a marketing challenge you want to discuss? We can help.
Fill out the form below to schedule a time to talk with one of our casino marketing experts.
* Required fields
Increase Revenue. Build Trust.
Sign up to get casino marketing insights delivered directly to your inbox.