MRI Casino Marketing Blog
CRM and the "Big" Picture
"Big" the movie. Big data. Big customer needs and wants.
We all know we want a solid CRM system that pays off in loyalty in terms of:
Higher share-of-wallet
Reduced customer service costs
Referrals
Lower price sensitivity
Amortization of acquisition costs
We seek to deepen these loyalty bonds through the rewards and offers that we send to our most valued customers who spend their money and time with us. After all, we want share-of-heart, too. So, it goes without saying that a healthy CRM is the crown jewel of communication for any company, but for casinos it's Der Blaue Wittelsbacher.
It enables the marriage of customer behavior to compelling loyalty marketing.
Are you going to invite a penny slot customer to poker tournaments? Of course not. The CRM system is in place to capture your guests' information so that you have everything you need to make the most compelling offers. In turn, they will show if they appreciate the offer by redeeming it…or not.
It is a dialogue with your customers and prospects better than advertising, direct mail and PR.
In actuality, advertising, direct mail and PR remain one-way communication. The message is planned months in advance and pushed out over ensuing weeks, usually without the intel to know a). if the guest even cares or b). if the guest even receives the message. There is no guarantee with traditional marketing – no obvious ROI. The only thing that is obvious is the time and monetary investment put forth. It may be necessary, but it's not optimal.
For example, to advertise Willie Nelson show tickets, entertainment has to secure a signed contract before marketing may begin. Oftentimes, the campaign is scheduled, produced and awaiting launch before the ink is dry on the contract. Nonetheless, the space is ready and the creative must go to press, to the outdoor company, to the mailhouse, to the media in one concerted effort that may take months to prepare. Once the message is out, the calls and online orders begin. The campaign can run right up to show time – potentially over a period of two to four months.
Now, take for example a digital communication via an optimized CRM system. Once the creative is ready, the CRM system pushes app notifications, texts and email offers in seconds and enables real-time responses from players back to Hosts or Guest Service Representatives 24/7. Voila! Willie Nelson is on its way to be a sold out show. This is two-way communication. This is a relationship. This is CRM. An added bonus is that opt-in messaging alleviates many legal issues.
So…back to the big picture. Let's take a look at your relationship partners.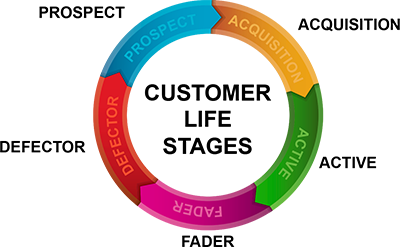 Anyone reading this blog understands that casino players are totally unlike any other client demographic. However, if you want to label it Customer Relationship Management, don't forget that it is a relationship, and it works like one.
Prospects are defined for our purpose as people who enjoy gambling but not at your casino brand yet. Essentially, they've met you, but they aren't sure they want to date you. Proceed with caution and do not tell them your entire life story a.k.a. monthly mailer or newsletter. More than likely you will scare them off. Find a way to invite them back to your house in a warm, welcoming way. Prospect and new member enrollments should represent 3 - 7% of rated play and should contribute to annual database expansion of 15%. 3 – 7% may not sound like much, but results compound over time.
New Enrollees are players who enrolled and were tracked playing in your casino. The goal is to generate a second trip which greatly improves their chances of becoming a loyal player. Among the more effective methods of generating that additional visit is offering an immediate bounce back at the time of enrollment. This fosters staff engagement while saving the multistep process of developing a matrix and conducting email or direct mail campaigns. Some successful executions of this immediate bounce back offer come from same-day cocktail receptions or CEO welcomes. Think about it. If you are hosting a cocktail party and invite your guests back to dinner in two weeks after showing them a great time, they will feel that they are important to you and will want to get to know you better.
Regulars or frequent players are the bread and butter of your business. They know the details and are familiar with your facility and staff. They are the evangelists of your casino and sing your praises to all. This life stage gets the most attention and for good reason. They hold your casino near and dear like a true friend. If you are lucky enough for them to consider you their best friend, their loyalty will show as the highest contribution:  85 - 90%. These guests have confidence in your abilities. They know to expect a high level of service including special offers and rewards. Similarly, these guests enjoy the social benefits of recognition throughout your casino which is extremely gratifying. Simply put, they like to hang out with you.
Faders are gamblers in decline. They have either reduced their trip frequency or reduced their ADT or both. While they could be broke, most often they are being lured to one of your competitors. Why are they willing to leave? Aside from core service failures, offers could be a key ingredient. Just like in any relationship, they are feeling less valued by you than by another friend. Start talking to them more and show them that you still value them. Don't play hard to get; instead use play-and-get offers scaled with disproportionate benefits for overachieving. Perhaps some good old-fashioned customer service such as a host call are in order to assess what they want before overspending or losing them entirely. The CRM is going to be the best indicator of what's effective and what's not.
Inactive Players aren't necessarily lost. Oftentimes they have switched loyalty to another brand. Every relationship has an alpha. In a casino relationship it's you, so take the lead and make up to the guest. The best tool to recapture a lost player is player development and host contacts. If your CRM management system has robust communication channels, then reaching the best of these players is a snap.  Better yet, it catches them before you lose them. But more about that in the next CRM blog…
The core issue to managing the life cycle is a CRM with data integrity.
We know you have communication channels, but are they robust? Host feedback and social media posts count, but they don't if the data isn't harnessed into one system that is easy to manage from A to Z. That is where MRI can help. Our process ensures that your data capture and collection will help you to develop clear insights that lead to loyalty and higher profitability. Of course, it's fully customizable to meet your specific data needs in a user-friendly management system. It isn't just our AIM product that will work for you as it has for 35 other casinos, it's the 30+ years of casino marketing behind it. For more information including a test demo, please contact us.
Sources: Wirtz, Jochen. Managing Customer Relationships and Building Loyalty. World Scientific, 2017. Image Source: Brian Hamill/Premium Archive/Getty Images
Share this post:
Let's Chat!
Have a marketing challenge you want to discuss? We can help.
Fill out the form below to schedule a time to talk with one of our casino marketing experts.
* Required fields
Increase Revenue. Build Trust.
Sign up to get casino marketing insights delivered directly to your inbox.